ATTENTION ATTENDEES:
Please disregard any phone calls or email messages you receive about booking hotels and please book in our official Borgata room block.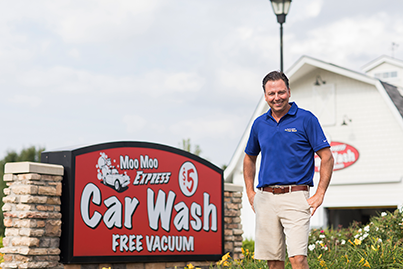 2019 Keynote Speaker: Moo Moo Car Wash's John Roush
When John Roush's favorite carwash shut down he decided to build his own. After doing his due diligence he also decided that the wash he would build would have character, a recognizable brand and a unparalleled level of customer service.
Roush, an Ohio-based carwash operator and commercial retail development executive with more than 25 years of experience in retail, commercial and residential projects, did just that. As founder and managing partner of Moo Moo Express Car Wash, he is responsible for the research, planning, branding and development of the award-winning chain. Under his leadership, Moo Moo has grown to 16+ central Ohio locations since opening his first wash in 2008. In 2018, he washed more than 2.5 million cars. He is also the co-founder of Flying Ace Express Car Wash, with five+ locations in the greater Dayton market.
He currently serves as CEO of Express Wash Concepts, the parent company of Moo Moo Expess, Flying Ace Express and the upcoming CLEAN Express brand. In April of 2018, Roush facilitated a private equity firm investment with Wildcat Capital Management which has enabled Moo Moo and Flying Ace to continue to build on their success and expansion.
A central Ohio native, Roush is a member of the International Carwash Association Board of Directors and is a 2019 Columbus Chamber Small Business Leader Award Finalist.
ATLANTIC CITY, NJ — The Northeast Regional Carwash Convention (NRCC), October 1-3, at the Atlantic City Convention Center boasted nearly 300 walk-ins on the first day of show hours demonstrating the need for the annual event and it's mission, according to 2018 Chairman Doug Rieck. "Despite the fact that it's been a wet few months, we had a great turnout with more than 1500 attendees and a record 320 exhibitors. Our seminars were standing room only and our vendors were very happy with the traffic they saw," said Rieck. "Our attendees want to learn and grow their businesses and that is great."
click here to read the rest and see all the pics