33rd NRCC Breaks Records!
ATLANTIC CITY, NJ — The 33rd Northeast Regional Carwash Convention (NRCC), October 2-4, at the Atlantic City Convention Center surpassed its 2022 booth count with 386 exhibits and beat its highest attendee number set in 2019 with 1921 combined attendees and exhibitors, according to Heather Courtney, NRCC Show Coordinator. "To say I'm thrilled would be an understatement," said Courtney, who is in her seventh year managing the event. "We spent more money promoting the show and have elevated our educational track significantly over the last several years. The NRCC had outstanding education, a huge show floor and is cost-effective for operators as well as vendors and all of that combined is a great value to all."
And according to Bob Rossini, Show Chairman representing the Connecticut Carwash Association (CCA), the event's host, "This show had extremely high energy," he said. "Attendees have seen the changes we've made to the show and it's paying off. Everyone I spoke with was impressed and energized to learn and bring fresh, new ideas back to their washes."
Show Highlights
A wide range of educational options elevated the 33rd NRCC, with something for everyone, according to Education Chair Suzanne Stansbury. "It's always a challenge to select a topic that will appeal to all types of operators with varying backgrounds, but I think we were able to find presenters with lots of charisma and diversity who were also relatable. I was really happy with our educational offerings."
The lineup included the annual "Virtual Carwash Tour" facilitated by Tom Hoffman, Jr. of Hoffman Car Washes and InnovateIT. The sites shown virtually included RoJo Car Wash in Norwood and Walpole, MA, operated by John Shalbey, Jr., Gleam and Gleam 2 Car Washes out of Denver, CO, operated by Emilie Baratta, Chesapeake Car Wash in Chesapeake, MD, operated by Tom Morris and Quick Clean Car Wash out of Lee's Summit, MO, operated by Bob Brown. "I try to compile a diverse grouping of washes and this year I think I was able to hit all wash models, including sites with detailing," said Stansbury. "I have also added in some out-of-market sites to give attendees a more broad look at what operators in different parts of the country are doing." This event was sponsored by Sergeant Sudz.
Simoniz Celebration Expansion
After the Virtual Tour concluded Simoniz USA, a long-time supporter of the NRCC, held its annual event, the Simoniz Celebration, at the Hard Rock's Hollywood Ballroom. This gathering helps get everyone fired up for the show's first day of exhibits and additional education. This year, the company opened the evening event up to every single attendee, no matter their level of registration. "Simoniz calls the Northeast our back yard with our headquarters located in Bolton, CT," said Joey Plude, Marketing Manager. "Therefore, a partnership and association with the NRCC and the Northeast community as a whole is very important to us."
The annual event drew a massive crowd, according to Plude. "We are so proud to have strengthened this relationship with the NRCC and the Northeast carwash family by opening up our Simoniz Celebration to the entire show," he said. "We feel it was a massive success having almost 600 attendees and we are committed to making it even bigger next year!"
Chairman Rossini couldn't agree more. "Our thanks go out to the entire Simoniz team, and Joey, for coordinating this incredible offering," said Rossini. "Next year's event on Monday, October 7th, should be amazing!"
Tuesday's Events
On day two of the show attendees were able to partake of an extensive buffet breakfast before soaking up content from the popular Early Bird panel discussion. This panel is meant to be unscripted and cover topics relating to all carwash models. Panelists included Amanda Kubarek of K & S Car Wash, Auburn, NY; Steve Sause of Cloud 10, Darien, CT; Mike Ashley of Virginia Car Wash Industries, Inc., Toms Brook, VA; and Dan Saidel of Premier Car Wash, Metuchen, NJ. The panel was moderated by the New England Carwash Association's John Shalbey, Jr., with RoJo Car Washes in Norwood and Walpole, MA.
Next up was an insightful program titled, "Your Unlimited Program — Is it Return or Rechurn?" facilitated by Myrrh Consulting's Chris Brown. Brown provided tips on how to master the unlimited sales process while minimizing financial fallout. He was able to demonstrate how to drive your unlimited capture rate, keep churn in check and ensure that your customers are happy customers for life.
"Ask The Marketing Experts," facilitated by Nick Lopez of Bubble Bath Car Wash, was the next spirited seminar on tap. Lopez' panelists included Wade Keith of Breeze Thru Car Washes in Wyoming and Colorado, Kacy Erdelyi of Spark Car Wash with three sites in New Jersey (more on the drawing board) and additional washes to come in Pennsylvania and New York, and Victoria Perez of Bubble Bath Car Wash in San Antonio, TX. The group took questions from the audience and shared their expertise on all aspects of carwash marketing. The feedback to this seminar was extremely positive and left attendees wanting more.
Exceptional Keynote Experience
International award-winning leadership expert and celebrated speaker, Mark Denton, shared his expertise on navigating turbulent waters in life and business with more than 300 in attendance. Denton has competed in countless races and sailed more than 80,000 miles across the worlds' most hostile oceans. In doing so, he has learned a bit about motivating his team and being able to adjust his leadership skills to meet all challenges; skills that can be taken back to your wash when motivating your staff to work smarter and better as a team. "His shear courage and will to overcome incredible odds, while working in a team environment, is nothing short of inspiring," said Chairman Rossini.
The Keynote was sponsored by Micrologic Associates and InnovateIT.
Awards Luncheon
This year's Awards Luncheon was led by Chairman Bob Rossini. Recipients included four Emerging Leaders: Sebastien Weekes of Spritz Car Wash in Clifton Park, NY, Dave Jones of Splash Car Wash, Milford, CT, Francesca Roman of Hoffman Car Wash, Albany, NY, and Max Pulcini, Director of Communications with EverWash, Philadelphia, PA.
The Emerging Leader Award celebrates and encourages early-career managers who have demonstrated strong leadership and industry service.
The Most Distinguished Person Award honoree was Larry Fiano of Fiano's E-Z Coin-Op Carwash in Bolton, CT. Fiano, 98, is a long-time CCA member. He has been washing cars since 1967 when he built a carwash into a parcel of land he had acquired the previous year. His wash is still in operation and the parcel of land now also includes a miniature golf and driving range called Mar-Lea Golf named after his oldest son Mark and youngest daughter Leah.
Larry would like to acknowledge the help he has received from Jeff and Allison Shackett of Car Wash Systems, as well as the Gorra family of Simoniz USA who have supplied the wash for the last 50+ years. Larry was not able to attend the show so Chairman Rossini accepted the award on his behalf.
The NRCC's highest honor, its Hall of Fame Award, was bestowed upon two individuals this year who have supported the NRCC and its mission and helped it grow year over year, tirelessly. The recipients are selected by past honorees.
Bill Gorra and Al West of Simoniz USA were honored with the 2023 Hall of Fame Award. Bill's journey began in 1980 working in sales at Syndet Products where his hands-on approach helped him gain industry knowledge. Using this experience, just three years later, he oversaw and managed five Gentle Touch Car Washes in Hartford, CT.
Bill then negotiated a licensing agreement with First Brands to use the Simoniz name in conjunction with professional carwash products. In 1988, he purchased controlling interests of Syndet from his father and expanded operations. And in 1997, Syndet purchased the 100-year-old Simoniz brand and renamed it Simoniz USA. The company now employs 350 and owns more than 100 brands and has been exhibiting at the NRCC for 33 years.
Al West began with the company 27 years ago after breaking into the industry as a manager with Boston-based ScrubaDub. He was then recruited by Simoniz when they were looking for a Team Member. He quickly rose up through the ranks to his current position as Northeast Carwash Sales Manager. And, according to his boss, Bill Gorra, "Al is selfless, passionate, dedicated and one of the most loyal people you can find, and the company would not be the same without him."
Both Gorra and West have supported the NRCC as valued exhibitors, sponsors and sounding boards over the last 33 years. They never hesitate to help the show grow and prosper while providing East Coast operators with a first-rate event. Gorra was not available to accept the award due to the recent passing of his wife Christine. His son, Will, accepted the honor on his behalf. West, who did not know he was receiving the award, accepted it with surprise.
The Award's Luncheon was sponsored by Carwash Superstore.
Annual Welcome Reception Grows
Another highlight of the show is the annual Welcome Reception sponsored by long-time sponsor and show supporter ICS. This casual meet and greet includes complimentary beverages and light New Jersey fare before everyone sets out for dinner with friends and vendors. "The last three years we have held the event at the ACCC just at the close of the show on Tuesday," recounts Heather Courtney. "It's a great opportunity to take a break after walking the floor and catch up with friends old and new. It's been a highlight of our show for years and we couldn't do it without the generosity of ICS."
This year's Welcome Reception also included a $500 cash giveaway and a Yeti cooler giveaway. The cash winner was Larry Lawrence of Roll-N-Vac by TRUEBITE, INC, out of Binghamton, NY, and the Yeti cooler went to Mike Goupil of Maintenance Tech out of Portland, ME.
Final Seminar
The show's final seminar and breakfast featured Chick-fil-A's Arthur Greeno whose Keynote "Remarkable Customer Service" resonated and entertained the audience. Greeno, who is also the bestselling author of "Breaking Conformity," is a current multi-store owner/operator. He shared some of the company's "secret sauce" on its consistent quality and remarkable customer service. It was obvious that he goes above and beyond with his employees. Visit nrccshow.com for a barcode to link to "50 Great Stories Meant to Inspire Greatness In Your Company."
"I thought Arthur and our entire educational lineup provided some exceptional content and examples of how to improve communication, better lead and better market wash operations," said Stansbury. "We have a limited number of educational slots to fill each show, which makes the selection process challenging, but we do encourage attendees to share their thoughts and ideas with us," she said. "Please email them to info@nrccshow.com or give us a call at 800.868.8590. You can also share feedback on each session by logging into the APP, NRCC 2023, and filling out a brief survey.
The 34th NRCC is slated for October 7-9 at the Atlantic City Convention Center. The Hard Rock Hotel & Casino is the host hotel. Make sure to visit nrccshow.com in the coming months for registration and seminar information. The Car Wash Operators of New Jersey (CWONJ) is the host association with CWONJ Past President Doug Rieck serving as Chairman.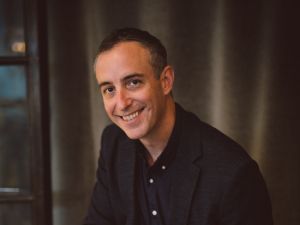 About 2024 NRCC Keynote Speaker Will Guidara
Will Guidara is the author of the national bestseller "UNREASONABLE HOSPITALITY," which chronicles the lessons in service and leadership he has learned over the course of his career in restaurents.
He is the co-owner of Make It Nice, a hospitality group that currently inclues Eleven Madison Park,
the NoMad restaurants and Made Nice in New York City. He has been immersed in the restaurant industry since the age of 13 and hails from Sleepy Hollow, NY.
While running Eleven Madison Park, Guidara discovered the remarkable power of giving people more than they expect, and used this idea of Unreasonalbe Hospitality to turn a struggling two-star brasserie into the #1 restaurant in the world. This radical reinvention was a true partnership between the kitch and the dining room, creating memorable, over-the-top, bespoke hospitality. Exactly what you want to give your carwash customers!!!
Please log into the APP and comment on the 2023 seminars!